After my first Collaboration Brew in May this year, I have been chomping at the bit to get another chance to make another. It's kinda like when you meet someone with a tattoo: an easy transition into conversation is to ask what their next tattoo is going to be. If they're like some people I know, they've already spent hours dreaming what their next tat is going to be, what font they'll use or where the perfect placement is.
That is how I feel about craft beer.
After making the Boiler Maker, I couldn't stop thinking about the next brew I would get to make with my mates. Would we try something completely different? Would we play it safe?
Let's just say when Mark, Sam and I get together, safe is the last word in our vocabulary. The three of us joined with Glen from Valley Brewing and Greg Crum from Further Brewing and called ourselves the Experimental Brewers.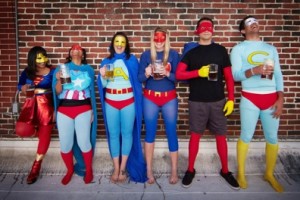 We managed to brew what is possibly the most expensive craft beer that has been brewed in South Africa and also the first Imperial Red India Pale Ale. So without further ado, I'd like to introduce you nice folks to our ZAR Red Imperial IPA.
If you ever get a chance to take a swig of this wonder, you will find:
A speciality malt body (created from 5 different malts, 5 different hops and a 2 hour boil)
A clear, very red beer with a full, frothy head
Tropical fruit and grapefruit notes with an earthy finish
A subtle bitter undercurrent that brings all the elements together
A moderate carbonation to balance the bitterness
I hope I don't sound full of myself when I say this is the greatest beer I have ever tasted! 😉
But in all seriousness, the ZAR really is a great beer and I wanted to give you guys an opportunity to try it. That's why the League is offering it to you as COST PRICE! (Yes, you just read that right.) We only had a chance to make one batch of this so you may need to move quickly. (Fingers on the buzzers…)
At a push, I would say a Cape Malay type of curry would pair well with this craft, but if I can be dead honest, I simply think it is a beautiful beer that should be consumed on its ace. Other beers will wither next to its character as this lass has enough personality to stand on her own two feet.
If you get your hands on one, I'm amped to hear what you have to say. Pop me mail at rob@leagueofbeers.com or write a comment below.
Proudly ZAR
Rob
P.S. Due to the rate at which it sold out (we hadn't even finished this post yet) we brewed one more batch at the Valley, so it will be available again for a very short time.