The Clarens Beer Festival came and went again this year with our very own Rob Heyns flying the League of Beers flag in avid attendance. We asked Lucy Corne, author of African Brew, to give us the lowdown on this much loved little beer festival.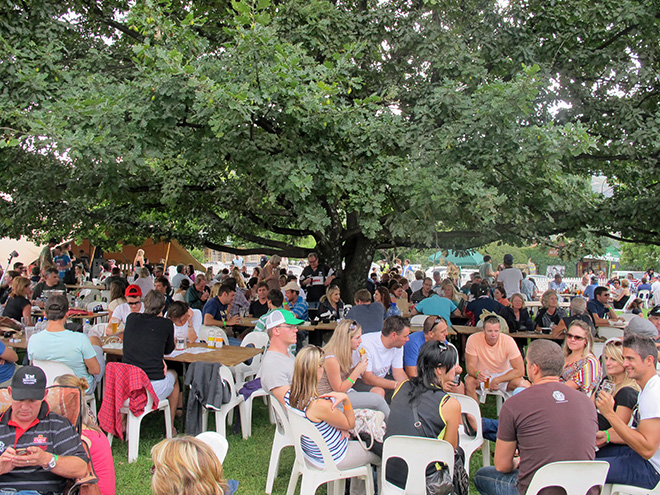 It is South Africa's greatest gathering of beer t-shirt-wearing, facial hair-toting brew nerds, but you don't have to be able to identify a strain of hops at 20 paces with one nostril tied behind your back to enjoy the Clarens Craft Beer Festival. Actually, the eclectic crowd that makes the annual pilgrimage to this pretty Free State town is one of the things that makes it such an awesome event.
Grannies sip on English ales, lager-loving Durbanites look for a craft equivalent to their usual pint, Gauteng hipsters juggle their tasters with their shisha pipes and kids run around on the grassy village square, happy to find that the fest also provides fruit juice on tap. Of course, there are also beer nerds in attendance, most often heard asking 'do you have any IPA?' as they clutch their pencils ready to check off each beer from the festival list.
This year's list featured almost 70 beers from 16 different breweries, hailing from KwaZulu-Natal, Gauteng, North West and of course, the Free State. While beer numbers were up on the 2013 edition of the fest, brewery numbers were down in an effort to keep the festival small and local – a slightly controversial decision that ruffled a few feathers in the SA beer community.
But the Clarens team defended their decision well, reminding us that the idea here is that you talk to the brewers themselves, not to their marketing team or sales staff.
Best of the Beers
So with a somewhat shrunken stable of brewers, was there still something interesting to taste? Luckily, even for the nerdiest ale aficionado, Clarens still presents a few chances to sample some new brews. First on my list were the four beers from That Brewing Company. Winning points both for its puntastic name and its spot-on flavours was That Good Adweiss, one of two superb weiss beers on show (the other, from Brauhaus am Damm, placed second in the festival contest and is now available from League of Beers).Other brand new beers included Raspberry Delight, a limited edition brew from De Garve (coming soon to the League), Clarens Brewery's APA (which placed third in the contest) and two love-em-or-loathe-em rooibos beers from SMACK! Republic and new Bloem-based brewery Kaya.
But it's not just the new brews that were drawing me in. In fact, some of the best beers were ones I'd tasted before, including Brauhaus am Damm's über-refreshing pilsner, the Copperlake IPA with its lashings of grapefruit on both nose and palate and the first-place-winning stout from Dog and Fig. Most of the beers on show have gone into the Monthly Mixed case for March for festival goers to enjoy again as well as for those who missed the Festival, in order to give them a small taste of what they missed.
Other stuff we loved
Beer aside, it's the country fête vibe of Clarens that I really adore. Tents dotted about the square with ample grass left over for families to throw down a picnic blanket or two; plenty of plastic chairs allowing revellers to sit and sip under the vast trees, a chilled, chatty vibe that sees you striking up easy conversations with absolute strangers. Clarens is the perfect location for a beer festival too, thanks to its picture-perfect location, its well-priced accommodation and its compact nature that allows festival-goers to nip out of the square for a bite to eat or an all-important midday booze snooze to power up for a few more tasters.
And for next year…
Alas, tasters weren't as easy to come by as in previous years, since the organisers decided to do away with taster tokens. Instead of 75ml tasters, the minimum pour was 200ml, meaning you couldn't realistically hope to sample everything on show. Some brewers were happy to pour a free taster, some weren't, but it's sometimes easier to just pay for samples – that way you don't feel obligated to buy if the beers aren't to your taste. The usual festival gripes cropped up – some wanted a greater food selection while some raised their hands in favour of quieter music. But in the end, it's the beer that you come for and like every year, the Clarens Craft Beer Festival kept the beer cold, the glasses full and the beer t-shirt salesmen still very much employed.
Written by Lucy Corne, author of African Brew