If beer is the everyman's drink, then this is the everyman's recipe. It can hit the spot just like any cold brew can. So grab two bottles of Darling Brew Silver Back Black Wit, one for you and one for the stew, and get cracking. Here's how to make this one pot winter warmer.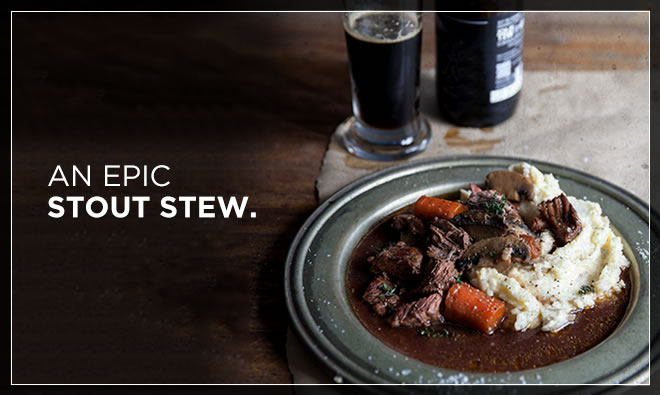 Ingredients (serves 6–8):
2 Tbsp canola oil
100g pancetta or bacon
1 onion, roughly chopped
2 carrots, chopped
2 sticks celery, chopped
1kg stewing beef – e.g. chuck
2 Tbsp flour
1 sprig thyme
1 bottle Darling Brew Silver Back Black Wit (and another for you, if you like)
600ml NoMU beef stock
100g mushrooms, sliced
For the mash (serves 4):
6–8 (1–1.2kg) large potatoes, peeled, washed and roughly chopped
100g butter
100ml cream or milk
Hot sauce, garlic paste or tomato paste – we used El Burro hot sauce.
Method
1. Heat the oil in a heavy based saucepan.
2. Fry the pancetta for a few minutes until slightly crispy. Add the onion and cook until soft. Add the carrots, celery and stewing beef and stir thoroughly.
3. Dust with the flour and stir well, add the thyme then slowly pour in the beer.
4. Add the beef stock, cover and cook for 45 minutes to 1 hour, stirring every now and again. Remove the lid, add the mushrooms and allow the pan to simmer uncovered for another 30–40 minutes.
5. For the mash, bring a large saucepan of water to the boil. Add the potatoes and cook for 10–12 minutes until the potatoes fall off the end of a knife when pricked.
6. Remove, drain and return to the pan. Put the pan on a medium heat and shake around for a few minutes – this allows excess moisture to evaporate.
7. Remove from the heat and add the butter, cream or milk and flavouring. Season well with salt and pepper.
8. Mash madly until you have a coarse, chunky mash. Depending on which flavour you choose, stir through a few teaspoons (according to taste) of sauce just before serving. Note that your mash will thicken on standing, so if you've made it a little ahead of serving time, just add a splash of milk before serving to loosen up.
There you have it, beef and beer stew. Serve with a bottle of Darling Brew Silver Back Black Wit or any tasty cold brew you choose and a big bowl of mash.