Imagine you're sitting around your braai when suddenly, the Norse god Thor crashes to the earth. He gets up, dusts himself off and asks you for a cold one. What do you offer him? It better be an IPA. Why? Because what other beer could you hand over with complete confidence to the god of thunder? Yup, IPA is a big beer and it probably has the biggest beer cult following. It's an in-your-face brew and this IPA Day we've paired it with some in-your-face chicken wings. This way for the cooking business.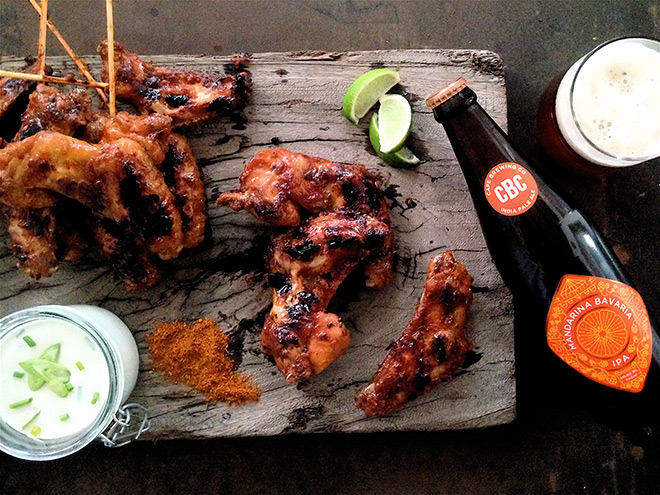 It sounds like a strange combination but think about it. A spicy, nutty sauce with just a hint of sweetness that's caramelised onto the tastiest part of the chicken. Slather that with a punchy, creamy blue cheese sauce then wash it all down with a malty, hoppy CBC Mandarina IPA …or three. Can IPA Day get any better? Not likely!
Remember, great chow always starts with great ingredients, and our good mates at The Butcherman have sorted us out with some awesome free-range wings. No antibiotics, no growth hormones, all natural feed and lots of sunshine. Just how we like it.
So here's the recipe for Sriracha peanut butter & apricot jam chicken wings with blue cheese dipping sauce. We know its a mouthful, but then again so are the wings!
Ingredients (Serves – 4 | Time – 1 hour):
For the wings:
16 chicken wings
16 wooden skewers (soaked in water for 10 mins)
Cajun rub (we used the NoMU cajun rub)
Salt and pepper to taste
2 limes cut into wedges
For the wing sauce:
5 Tbsp smooth peanut butter
5 Tbsp Suree Sriracha Chilli Sauce (or any chilli sauce of your choice)
3 Tbsp smooth apricot jam
100ml water
For the dipping sauce:
100g strong blue cheese (we used Fairview Blue Rock)
250ml fresh cream
Small handful of chopped chives
Small handful of chopped spring onion
Salt and pepper to taste
Method:
1. The best way to ensure epic braaied chicken is to par-cook the chicken before you braai it. So set your oven to 180 °C then get started on the wings. Chicken wings have an odd shape and the wing tip often goes through the grid when you flip them, which causes them to burn. The tip doesn't actually get eaten so we find it best to just trim it off.
2. Once your wings are trimmed you can straighten them out and skewer them. This simple step makes braaing a whole lot easier. Season the wings generously with NoMU Cajun rub, cracked salt and pepper, then put them onto a baking tray and roast in the oven for 20 minutes.
3. To make the wing sauce put the peanut butter, apricot jam, Sriracha Sauce and water into a small sauce pot. Heat it up slowly and stir until everything is combined and lekker. If you want more heat, feel free to add more Sriracha. If it's too thick use a little more water to thin it out.
4. For the blue cheese sauce, break the cheese into a bowl then add the cream. Blitz it with a hand blender until it is smooth. Stir in your chives, spring onions and season to taste. Simple.
5. Once your wings are par-cooked, take them out the oven and give them a first coat of peanut butter sauce. Braai the wings over medium coals and baste with every turn. When they're golden, caramelised and you can't stand not eating them anymore, they're ready to go. Save a little basting sauce to toss over them when they're done.
6. Resist the temptation to tuck in if you can, and leave the wings for five minutes to rest and cool slightly. Then pile them up on a wooden board, give them a good squeeze of lime, grab your bowl of dipping sauce, crack open your awesome CBC Mandarina IPA and listen to the IPA angles sing. Life is good.