You know about the One Ring, right? The one that ruled them all? The infamous, 'My Preciousss'? Well these braaibroodjies are the equivalent of that, but in a good way, of course. It's a braaibroodjie like you've never seen. It's a VIP party in your mouth, a unicorn soaring through a flavour dimension. We've paired the One Broodjie with a Apollo Brewing Company Stout to create a supersonic unicorn of nuttiness that complements the bittersweet chocolate and banana. Here's how to make a braaibroodjie.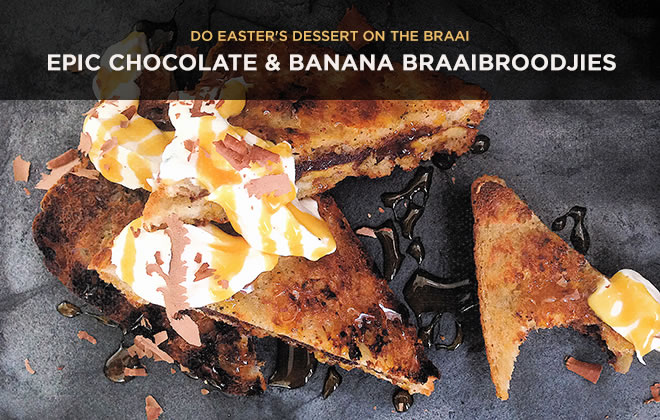 Ingredients:
Serves 8 depending on how generous you're feeling | Time: 30 minutes
1 loaf oats and honey bread (Sasko or Woolies)
1 cup melted butter
4–6 bananas
2 slabs 70% dark chocolate (we used Lindt)
1 roll tinfoil
Whipped cream
Maple syrup
Apollo Brewing Company Stout, for drinking
Flip grid
Method:
1. Lay out the bread on a large surface and make sure you have an equal amount of tops to bottoms. Using a brush, give the bread a coating of melted butter then flip the pieces and coat the other side.
2. Slice the bananas into rounds and lay them on the bottom of the sarmie. How much banana you use is up to you, we like to cover the surface.
3. Finely grate all the chocolate, keeping four blocks whole and set aside. Sprinkle the grated chocolate over the banana. Then break the leftover four blocks into small chunks, you can use a chef's knife for this, and distribute them evenly on the sarmies.
4. Pop the tops of the sarmies on and then wrap them individually in foil.
5. Put the sarmies on the grid over medium coals for about five minutes a side, but keep them in their foil. This will keep all the melted goodness together inside the sarmie. Then take the sarmies out of the foil, put them into the flip grid and braai them until golden brown.
6. Serve with whipped cream and syrup and try not to eat them all before you can share with your mates.
We hope whichever way you choose to celebrate it, that you have an epic braai day people and that these braaibroodjies make for a champion finale to all the tasty chop and dop.