Got any plans this Valentine's Day? If a fancy restaurant is not your vibe, then this dish can save your bacon. It's the very definition of compromise (but not on flavour), a dish that offers the best of both worlds. When one half wants a salad and the other wants to braai, this chicken and Caesar salad is where two worlds happily collide. We reckon it holds major brownie points in store for you.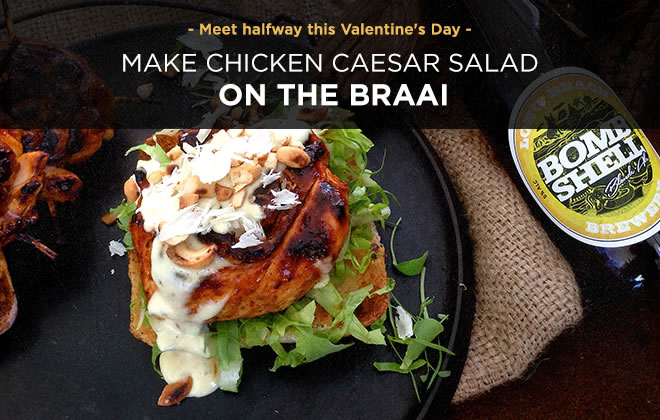 The humble Caesar is a classic and it's a Beer Country favourite. One could argue that this is more of a sarmie to which we say – 'but there's lettuce on there, man!' We've paired our braaied Caesar with a Long Beach Bombshell Blonde. It's a great summer sipper with its honey and tropical notes, and has enough body to cut through the Caesar's richness.
Ingredients:
For the chicken:
4 free range chicken breasts
1 pack streaky bacon
8 wooden skewers
NoMU cajun rub
Olive oil
Your favourite braai marinade
For the Caesar dressing:
2 egg yolks
1 Tbsp dijon mustard
1 cup canola oil
2 anchovy fillets, finely chopped
1 garlic clove, finely chopped
Dash of lemon juice
Big pinch of lemon zest
Sea salt and pepper to taste
Small handful of finely shredded parmesan cheese
For assembly:
1 packet cos lettuce, shredded
2 ciabatta rolls, buttered and toasted
Dry roasted cashews
Shaved parmesan
Method:
1. Start with the Caesar dressing so you can pop it in the fridge for later. In a large bowl add the two egg yolks then whisk in the mustard to combine. Start adding the oil slowly and whisk as you go. The mixture will start to emulsify slowly, and the more oil you add, the thicker it will become. Ideally you want a thick and glossy mayonnaise. You can stop adding oil when you're happy with the consistency. Mix in the rest of the ingredients and season to taste.
2. Next toast your cashews in a dry pan until they have some colour, then give them a rough chop. Cut and butter your ciabattas and set aside to toast on the braai.
3. To make the main event, start by carefully slicing your chicken breasts and opening them up so as to create one long, thin strip. Lay two pieces of streaky bacon along the chicken, and season with cajun rub, salt and pepper. Next, start at the thin end and roll your chicken and bacon into a wheel. We like to refer to these as chicken and bacon pinwheels. Secure this together with two (or more if necessary) kebab sticks. Season the outside with rub, salt and pepper and give it a coating of your favourite marinade or basting sauce.
4. Braai over medium coals until cooked through, basting continuously to get a thick, caramelised coating. Just before these are ready, pop the buttered ciabatta rolls on the braai for a quick crisp up.
Layer your lettuce, parmesan on the bun, or no bun if you're carb watching, place your pinwheel on top, drizzle with your homemade Caesar dressing, sprinkle with cashew (phew) and enjoy the blessed union of braaied chicken and salad.
Happy Valentine's Day, people.