When the last thing you want to do is leave the warmth of indoors, a dish as flavourful and covered in spicy sauce as this butter chicken somehow makes all the unpleasantness of winter seem like the best reason to stay indoors. And just because its winter doesn't mean you can't enjoy a refreshing crisp beer with it, so make it extra spicy and we're pretty sure this recipe will keep you fed and happy on the hibernation worthy days.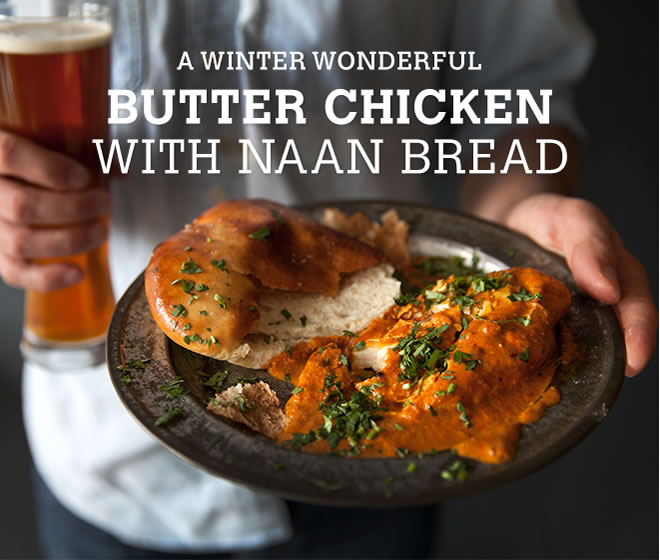 Ingredients
Serves: 6
6 chicken breasts or thighs
½ cup (125ml) plain yoghurt
2 Tbsp cumin and coriander seeds
2 tsp garam masala powder
1 tsp chilli powder (optional)
1 Tbsp turmeric
1 onion, finely chopped
3 cloves garlic, crushed
1 stick ginger, peeled and grated
1 big tin (490g) tomato paste
Rind and juice of 1 lemon
125ml water
250ml cream
1 handful coriander
Naan bread, either store bought or order a batch from your nearest curry spot
Method:
1. Marinate the chicken in the yoghurt for 30 mins to 1 hour (anything up to overnight will tenderise the chicken).
2. When you're ready to cook, preheat the oven to 230°C.
3. Heat the cumin and coriander seeds in a frying pan for a minute or until they start to smell fragrant.
4. Remove, place in a pestle and mortar and pound to a fine powder.
5. Mix together with the garam masala, chilli powder if using, and turmeric powder.
6. Place the chicken on a baking tray and cook for 10–12 minutes.
7. In a frying pan, heat the oil for a minute then add the onion, garlic and ginger.
8. Fry for another minute or two. Add the cooked chicken, tomato paste, lemon rind and juice and reduce heat to a low simmer. Stir in half a cup of water. Allow to cook for 15 minutes with the lid slightly ajar.
9. Before serving, stir through your cream and some chopped coriander.
Now all that's left to do is serve this incredible winter–perfect meal with a bowl of fluffy rice and naan bread.
A spicy dish like this pairs well with a lager like the Brewers & Union unfiltered lager, or interestingly enough, one of this month's feature beers, the Oakham Inferno. It's light and hoppy but still has enough malt backbone sweetness to not be overpowered by the curry.
if you plan on making a huge batch to see you through a couple of days of couch comfort, it might be best to invest in a mixed case of lagers and pilsners.