We headed up to Jozi to find the boys from SMACK! Republic, Andrew and Dave Martin and Grant York, to chat about day jobs, moonlighting as male strippers and surviving Jozi inner-city at 3am. And of course beer.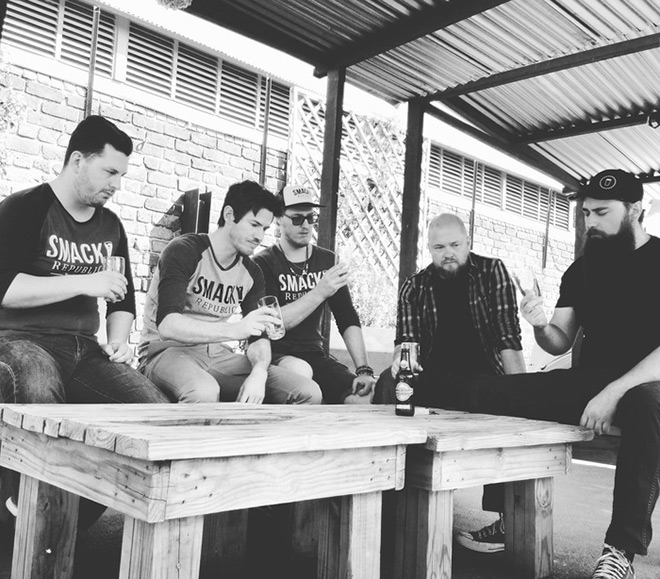 Hey guys, so let's start with an easy one… Cameron Diaz walks into the brewery, what beer do you give her?
Grant: Anything she wants! Wait, is this on the record?
Dave: Is it for drinking, spraying or pouring? She seems like a lot of fun.
Drew: Definitely the Hillbrow Honey. Like it says on the bottle: " You can hold me, but only if you can handle the rush!"
SMACK! Republic is one of the most recognisable names in SA craft beer. Where did the name come from?
Drew: It was 3am to begin with, and we knew we wanted to shake things up a bit with the name. What we represent is the collision of old and new beer cultures, and what better place to do it than in Maboneng, old and new Jozi getting mashed-up together.
David: That, and we wanted anyone that drank our beers to catch a serious wake up!
Well your brand and beer names definitely do that. So which one of you grew up in Hillbrow?
Drew: Well it was more our dads than us, but the old stories that were written on the city walls are the inspiration behind some of our beer names.
Dave: Watch out for squatters!
Which of you guys still has a day job?
Grant (hands up): Yeah
Dave: Yeah, we don't talk about it.
Drew: Not anymore, living the dream! In the beginning we used to work days, and then start brewing at 6pm. My boss thought we were moonlighting as male strippers, and that the zombies had gotten to Grant. Now we just do that for fun.
Well you guys have some seriously bold, brave beers and clearly aren't scared of mixing it up… So what is the best beer you haven't brewed yet?
Grant: Wow, there are so many! As long as every beer we brew is better than the one before. Next on the cards for me is a red rye IPA.
Dave: Yip, the three of us make up a kind of Smack! brains trust, and we don't follow the Reinheitsgebot, in case you hadn't guessed that by now. At the mo, I am seriously keen on white IPAs (that's kind of like a wit beer but way more hoppy).
Drew: Maybe something with an infused tea (much laughter at Drew's expense)!
So then we know the answer to the next one… Which one of you would win in a fight?
Grant: Not the tea guy!
Dave: Yeah Drew's a big teddy bear.
And if you had to pair one of your beers with a song?
Grant: Pearl Jam, Nothingman with Newtown Nemesis.
Dave: To many, can I take a 50/50?
Drew: Braamfontein Brawler with I Can't Feel my Face!
You are lost on the streets of inner-city Jozi. It's 3am and things aren't looking good. What is your last meal?
Grant: Just give me a good, wait scrap that, great steak cooked perfectly on the fire. Then let's have a big American IPA on the side, something by Stone or Sierra Nevada will do nicely.
David: Easy, a slice of double-choc cake with a Newtown Nemesis and I'll leave this world a happy man.
Drew: Something full of fat, high protein, high energy. Hopefully the extra reserves will help me run faster. Toss anything crazy from Brewdog on the side.
Well we can't fight the logic! So we gotta ask, Jozi vs Cape Town?
Dave: Well make no mistake, we love Jozi. It's our home. That said we find the Cape craft scene massively inspiring and it's probably a year or two ahead of where we need to be. The support for the brewers is amazing, and the branding, distribution and availability are just incredible. Every hole-in-the-wall pub has craft on tap!
Grant: But we are catching up quickly, and don't forget things move faster up here!
So are you guys gonna be the brewery to make the change up here?
Grant/ Drew: Absolutely!
Dave: For sure. When you think of Cape craft, a few big players come to mind every time. So in future when you think of Jozi craft, we want everyone to think SMACK!
Easy one, why do you love beer?
Dave: We love the art of beer and brewing, taking such an ancient artform and making it your own through your beers.
Grant: Well some of us have day jobs, so brewing is this massive creative release that lets you play with your passion and create something unique that you can share with the world.
Drew: No rules! We make the beers we wanna drink, end of story.
When was the first time you realised you loved beer?
David: My very first homebrew kit… success!
Grant: Yeah and then less than a year later, we had a brewery.
Any advice for the Bokke at RWC?
Grant: Boys, don't f@#k it up!
Drew: Win it and you have free SMACK! beer for life boys!
Dave: I'm good with that!
Thanks for the rooftop chat guys!
Get your hands on some seriously good Smack! in October's Mixed Case