The month of April sees the legend brewing team Two Okes Brewery taking centre stage in our Monthly Mixed Case. We tracked them down to a local bar and got to know them a bit better.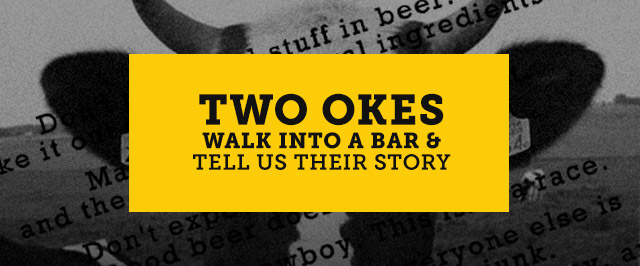 The Bokke have just beaten the All Blacks and Schalk Burger walks into the brewery, what beer do you give him?
Our Stout, definitely. Nothing like downing something all black, after downing the All Blacks!
Beer and braai is the best pairing out there. What's on your fire this weekend and what are you drinking?
A kudu potjie with our Irish Ale is awesome, but sometimes we keep things simple and delicious. A great quality T-Bone with our Pale Ale. The hops lift the braai spices to a whole new level.
Tell us where this all began. Was it a case of… Two okes walk into a bar, and leave with a brewery?
On Heritage Day 2013, over a braai and a home-brewed beer, the idea was hatched for a Real Beer Brewery: No compromise on Quality or Taste!  That is how a man with a love for brewing, and a man with the love of beer came together and said "yes" to produce real beer.
Do you remember your very first beer, and was there one beer that changed your life?
My first beer was on the family farm, standing next to the braai with the men. That was a rite of passage for sure. Then much later, on our honeymoon in Knysna, we bumped into Lex Mitchell and his "Milk & Honey" ale changed it all for me. It was like nothing I had ever tasted and it didn't give me gout, huge bonus!
I guess the best beer I've ever had would have to be Smithwick's Irish Red Ale. It convinced me to come back and really look into making our own real beers – it's the inspiration for our Two Okes Irish Ale.
What makes your pale ale truly South African?
From the malt, to the yeast, to all the hops… It's all local, and local is lekker!
What is the Two Okes beer philosophy?
To make real beers with natural ingredients, the natural way.
At League of Beers, we are all about being craft smart. Give us three quick things that every new craft drinker should know?
Drink what you like, not what the market tells you.

Always support local first.

Try a new beer at every opportunity.
Any wild stories from setting up the brewery that you can share?
Beside receiving all the installation instructions in Mandarin, I would say it was while I was cutting into the floor to put in our drains. I hit the office main power supply to our entire industrial complex. Well, sparks and flames, and thank God I was wearing rubberised Wellingtons!
What is your top tip for the guys and gals that are starting out?
Make beer you are passionate about first and foremost. There are enough "macro" styled craft beers out there already.
What tunes are playing while you're brewing?
Rock music all the way! Pretty sure a Stout taste better with a bit of Def Leppard or Aerosmith behind it…
What would you like the guys and gals to get from your beers?
A taste experience, followed by the satisfaction that you're drinking a beer that's been made by this Oke just for you, the other Oke, or Gal!
You are in the Mixed Case with a few international heavy hitters. How do you reckon local craft is standing up on the international stage?
I reckon we are starting to square up nicely, even though we are still very young, and the USA still occupies much of the lime-light. It would be great to see our own "ZAR" craft beer identity out there, but I don't think we are there just yet. Watch this space…
Got an crazy plans up your sleeve that you can share with us?
Hmmm, there is always something brewing in the back of my mind but let's keep those just there for now…
Thanks Okes! To get a taste of this delicious local craft, head on over to get this month's mixed case or explore a case from Two Okes. While you're at it, sign up to our newsletter so you never miss out on the latest brewers on the block.