In preparation for the upcoming Capital Craft Festival we chatted to 3 of the featured international brewers whose beers will be on show. This is our chat with the monks from the La Trappe Trappist Brewery.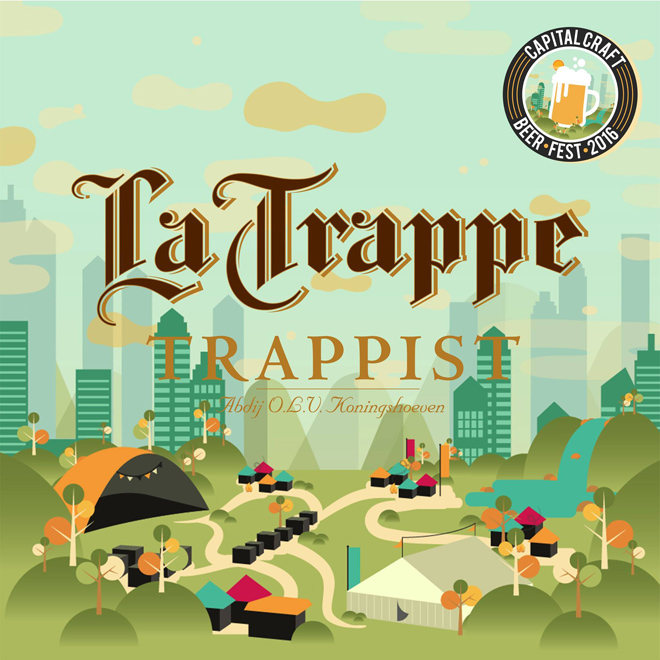 Your website says one key ingredient to your beers is tranquility – so does this mean beer has a role in helping world peace?
World peace starts with each individual. If a person is in balance and harmony with himself peace is apparent. Silence and tranquility are imperative to reach this state of mind. In the rush hour of our modern life, silence and tranquility may be more valuable than physical possession. Time for yourself, a moment of reflection, is something that we have to consciously search for and create these days. Silence is a rare and curative ingredient that we have to miss too often. There is a monk inside every one of us. Silence is the white between the written lines. Silence starts with attention. La Trappe is beer brewed with integrity but the taste says more than that. If you taste carefully, you will recognize the vital ingredient which is indissolubly related to the monks. Silence.
The general impression would be that being a monk is a calling rather than a career – can the same be said about your brewers?
There are no impediments to become a monk but it`s a calling, a charism, a gift. Brewing is a very specific career choice and you could indeed say it is a calling. Our brewers have been with us for years.
What makes a Trappist beer so unique?
A "Trappist" Ale has to satisfy a number of strict criteria before it may bear this name:
1. The beer must be brewed within the walls of a Trappist monastery, either by the monks themselves or under their supervision.
2. The brewery must be of secondary importance within the monastery and it should witness to the business practices proper to a monastic way of life
3. The brewery is not intended to be a profit-making venture.  The income covers the living expenses of the monks and the maintenance of the buildings and grounds.  Whatever remains is donated to charity for social work and to help persons in need. Pure and honest. And you can taste it.
Where should someone start their Trappist beer journey?
The only place to really start the journey would be at De Koningshoeven brewery and abbey in the Netherlands. As we understand that won`t be possible for everyone we have brought La Trappe to South Africa. Capital Craft Beer festival will be a great introduction to taste our unique Trappist Ales. There will be 4 styles on draught ranging from our Witte Trappist with 5.5%, La Trappe Blond 6.5%, La Trappe Dubbel 7% to our flagship La Trappe Quadrupel at 10% ABV. We`ll be looking forward to meeting you there!
Beer-brewing monks is not something you come across every day, what does an average day look like for a brewery that's anything but? (What does life look like on a beer-brewing monastery.)
Most of the brewing is these days done by the brewers who work under the supervision of the monks. As per our traditions of monasticism, the monks pray 8 hours a day, work 8 hours a day and sleep 8 hours a day. Our way of life doesn't allow a full-time dedication to the brewery.
Monks are thought of as being really, really wise. Do you think some of that wisdom has made its way into the beers? Because after a beer or two we come up with some really great ideas.
We believe that our Trappist ales made in an environment of silence and tranquility, brewed with integrity, carries through and will give you a conscious moment for consideration of yourself and others.
What is something the process of brewing has taught you about life?
Attention for what you do! Silence starts with attention. Whatever you give attention, will grow. We pay attention to doing the right thing. Our essence helps us to continuously contemplate the important things in life.
In movies or stories, people always go to the monks for wisdom, so what life advice does La Trappe have for us?
Respect people and your environment. According to the wishes of the Abbey, we deal with everything that God has given us in a careful way. Therefore we have been committed to this for centuries and we`re still committed to do so.
Tell us a bit about La Trappe Blond.
La Trappe Blond is a scintillating golden ale which boasts a rich, fruity and fresh aroma with a light malty and sweet taste. It has a soft bitterness with a friendly aftertaste. A well-balanced blend of complexity and simplicity. We are happy that our dedication and craftsmanship has been recognized at the World Beer Cup awards with a golden medal this year.
Are all the monks hopheads? [Is a love of beer a prerequisite to joining the monastery?]
You could say that the love for beer is something that we share. Our lifestyle and monastic values keeps the balance. The Monks are only allowed to drink one beer every Sunday.
Did you ever imagine that your Trappist beers would be profiled at a Craft Beer Festival in the Capital of South Africa? And what will it take to get you to come and join the next Capital Craft Beer Fest?
It`s a big privilege that La Trappe Trappist will be presented at the Capital Craft Beer Festival. We`re very happy to have the opportunity for south African people to taste our Trappist Ales. As Abbot of the monastery I only travel abroad for the brewery once a year. Maybe South Africa is next…
What's your beer philosophy summed up in a sentence?
Beer brewed with integrity and patience reflects in the taste.