As soon as we had the first sip of Desert Dragon with its honey bush and fruity flavours, we knew it had to be a Hawaiian chicken burger. Then we thought about it a little more and decided, it had to be the biggest, best one we've ever seen. So without much further ado, we present our ultimate double stack, bacon and cheese Hawaiian chicken monster.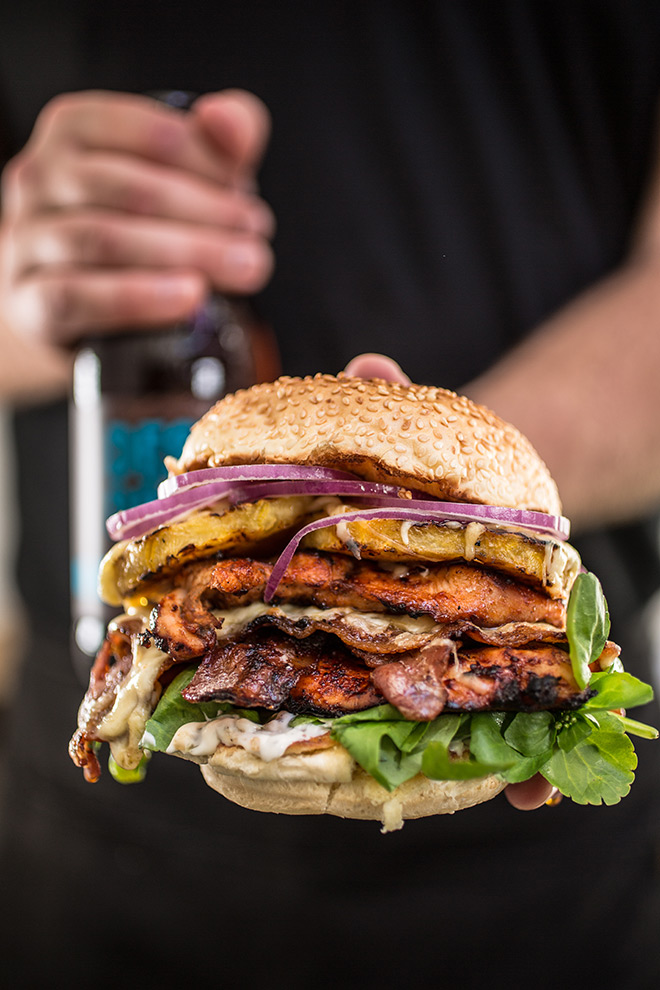 Ingredients:
For the burgers
8 free-range boneless, skinless chicken breasts
Your favourite braai spice
Your favourite braai marinade
4 Woolies ultimate burger rolls, sliced, buttered and toasted on the braai
For the toppings
2 ripe pineapples, peeled and sliced into rounds (2 per burger)
250 g streaky bacon
200 g Gruyere cheese, grated
250 g mozzarella, grated
2 red onions, sliced
1 bag of mixed baby greens
For the mayo
3 Tbsp mayonnaise
2 large pickled jalapeños, finely chopped
Salt and pepper
Method:
1. Start by lighting a medium sized fire so that the coals are ready to go when you are.
2. Using a sharp knife carefully butterfly the chicken breasts open. Flatten them and then season with your favourite braai spice and baste with marinade. Set aside until you're ready to cook.
3. Mix the ingredients for the mayo together and pop it in the fridge.
4. Fry the bacon in a large pan over a medium heat (or do it on the braai). To get it crispy you need to cook it slowly to render the fat out. Once the bacon is crispy, drain on some kitchen towel and set aside.
5. Braai your chicken breasts over medium coals for about 5 minutes aside or until done to your liking. Remember to baste with marinade on each turn. At the same time braai your pineapple to get some caramelisation on it. Be careful not to cook it to death, you just want some colour on the pineapple. Lastly, don't forget to toast the rolls.
6. Next, set your oven onto grill. Place the 8 butterflied breasts onto a large baking tray. Top 4 of them with bacon and half of your cheese. Then top the other 4 with pineapple and the rest of the cheese. Place then under the grill until the cheese is melted. Remove from the oven and get ready to build the burgers.
7. To build your burger, spread the bottom of the bun with mayo then top with the greens. Add the chicken breast with the bacon on first then followed by the chicken breast with the pineapple.
8. Top with red onion followed by the top of the roll, then stand back and marvel at this beast of a burger.
Tuck in, enjoy and wash it down with a swig or several of Desert Dragon.