Brewed only with natural ingredients including coriander and orange peel, this traditional Belgian white beer comes with its own ritual. Pour ⅔ of the beer into your glass, swirl the rest in the bottle to stir up all the natural yeast, then pour the rest in one movement.
Always remember, swirl before you pour!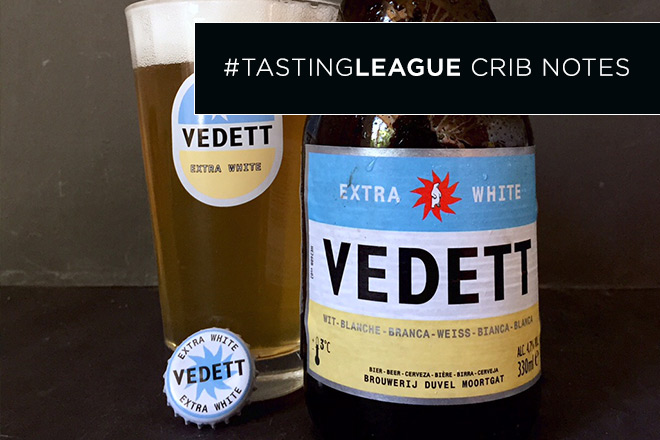 The tasting experience
Appearance: Cloudy, light-blond with a creamy white head.
Aroma: Herbal notes to start followed by dominant citrus, and a slightly sweet finish.
Flavour & finish: This beer is creamy and refreshing with a fine bubble. Citrus and grainy flavours upfront, give way to a slightly sweet, honey-like finish.
Quick fire facts
This beer is refermented in barrel and bottle.

Hops are Saaz-Saaz, Hallertau Magnum, and Hallertau Perle

It has 4.7% ABV.

A polar bear is it's mascot.
Overall thoughts
A highly drinkable, refreshing Belgian wit beer with a sweet, slightly perfumed finish. It may be hard to see through, but it makes up for it by sending all your other senses into overdrive.
#TastingLeague handle
@belgianbeercom
@vedett
Food pairing suggestion
Grilled salmon is a treat with this beer, and for the more adventurous, grab a slice of lemon cheesecake.
Where to drink
Anywhere the sun is shining, the people are smiling and the dance floor is grooving.
Get your hands on some Vedett Extra White craft right here, delivered free to your door.
Join our TastingLeague on Twitter or Instagram by sharing your tasting notes with us and you can win R1000 in beer. Check out the TastingLeague rules and get tasting.