As SASSI Ambassadors, we're very conscious of our seafood choices. Luckily for us, mussels are on the green list and they're one of our favourites. Now, this is not your average mussel pot. It's made with beer, bacon and cream, and it's been known to turn non-mussel eating people into savage mollusc predators. Beast of the Deep with its low bitterness, honey character and biscuity vibes is the perfect match for this creamy pot.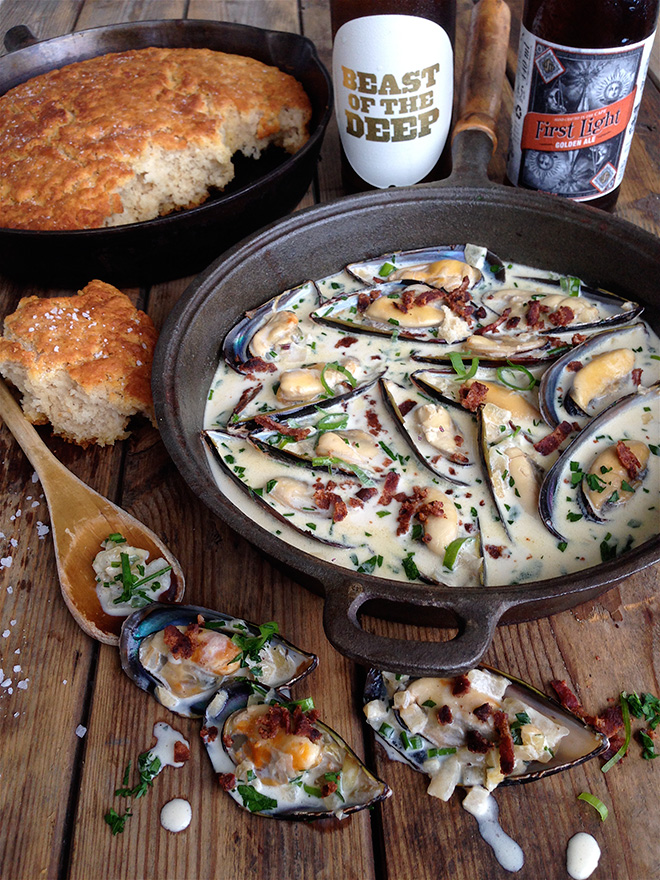 Ingredients (serves 4 hungry people):
1 kg bag of sustainably farmed Blue Ocean Half Shell Mussels
Sea salt and freshly ground pepper
Oil
1 large onion, finely chopped
2 cloves of garlic, finely chopped
1 handful of parsley, finely chopped
1 handful of chives, finely chopped
1 handful of spring onion, finely chopped
1 bottle Beast of the Deep,1 swig for you, the rest for the pot
250ml fresh cream (double cream is even better)
1 packet streaky bacon
Method:
1. Fry your bacon in a non-stick pan slowly to get it nice and crispy – don't rush it. Alternatively grill it in the oven on a roasting rack until crispy. Allow to cool then chop roughly and set aside.
2. Heat a little oil in a medium potjie pot over the coals or a medium pot on the stove.
3. Fry onions until they start to get a bit of colour then add your garlic and fry for a couple of minutes.
4. Pour in the beer and bring to a boil.
5. Add the mussels and steam with a lid on for about 4–5 minutes.
6. Take off the heat and stir in the cream and all the greens.
7. Serve with generous amounts of bacon sprinkles and plenty of beer bread for mopping up.
8. Once the mussels are finished, drink the remaining beer cream sauce with a straw.
The Devil's Peak beer bread
Some of the best recipes in life are the ones that find you unexpectedly. This go-to beer bread comes from the wife of Mitch Lockhart of the Devil's Peak Brewing Company. We were at a beer festival, she was there with a loaf and that day the universe smiled on us. This recipe works great in the oven or over the fire in a flat bottom potjie pot. Just a heads up though, if you're not experienced in fire baking then stick to the oven. Fire baking can get ugly quickly if it's rushed.
Ingredients (makes one loaf or pan):
3 cups of cake flour
3 tsp of baking powder
1 tsp of sea salt
¼ cup light brown sugar
1 Devil's Peak Golden Ale – tropical, fruity flavours make epic bread
¼ cup melted butter (or more if you're feeling generous)
Method:
1. Preheat the oven to 180°C.
2. Mix your dry ingredients together, then pour in the ale and mix until combined.
3. Spread the sticky dough into a greased or baking paper-lined pan.
4. Pour the melted butter over the dough and pop it in the oven.
5. Bake for roughly 45 minutes. When the crust starts to turn golden, you're just about done. If you really want to give it a golden tan then put the grill on for a couple of minutes, but keep an eye on it – it'll burn quickly.
6. When you're happy with the colour remove from your loaf tin from the oven and crack some sea salt over the top.
7.  Smash it in your face.
Recipe suggestion:
This recipe works with just about any beer and you can really taste the beer in the bread. Once you've got this one down, we suggest trying a dark ale or stout to give the bread a lekker roasty vibe. You can pair this with mature cheddar and farm chutney. Then try a honey ale and pair that with strawberry jam and Camembert cheese. You get the idea. Is anyone else really hungry all of a sudden?